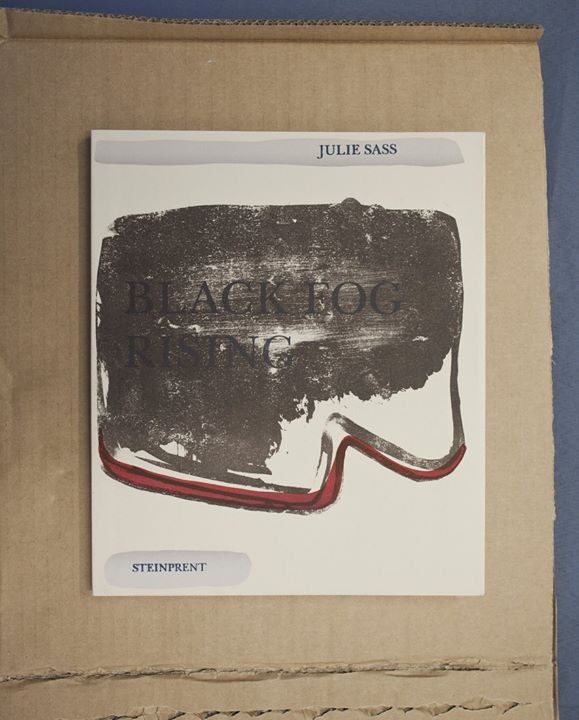 Black Fog Rising
Three new artist-books by Julie Sass - Now at RSS Press
Volume Rhythm Matter dialogues, 2017; Lemon Mood, 2018; and Black Fog Rising, 2019
On view in the DECEMBER BOOKSHOP: 29 November, 2019
Really Simple Syndication Press, the publishing arm of SixtyEight Art Institute is releasing three splendidly hand-made artist-books by the visual artist Julie Sass. You are warmly welcome to see and page through each of these productions during our 'December Bookshop*. Furthermore, these artist-books mark the first occasion in which RSS Press activates the 'syndication' aspect (referred to in our name) by making available artist-books, which have been carefully articulated and crafted by the artist, in collaboration with another press: STEINPRENT based in Tórshavn, Faroe Islands.
Launching during our DECEMBER BOOKSHOP project.
Opening: 18:00 - 21.00, Friday 29 November
– with drinks
Gothersgade 167, Kbh K
This special selection of three artist-books by Julie Sass; Volume Rhythm Matter dialogues, 2017; Lemon Mood, 2018; and Black Fog Rising, 2019 involves an opportunity to offer rare access to an artistic project, which has been elegantly generated through a long-term collaboration and process for the building of each book. Where the viewer-reader can enjoy the various abstract renditions, assemblages, and painterly gestures that bind together (sometimes with text) each artist-book. Each, in their own right, feature advance innovations in image construction and representation. In addition to fostering a conversation on the role of abstraction through print technologies. All together, and in considering our complex cultural and digital era, the books question quietly (and with style) the role of surface and image reproduction in a visual world so saturated by pixel noise. In summary, these artist-books stroll into new arenas for abstraction and/or its theoretical underpinnings with rhythm, mood, and dark delight.
Each artist-book by Julie Sass is on sale during our 'December Bookshop' and accompanied by a Black Fog Rising organic cotton tote-bag designed by the artist. Every book is signed and numbered by the artist and now available at RSS Press.
***
Bio
Julie Sass (1971) studied visual art at The Royal Danish Academy of Fine Arts in Copenhagen and in the MFA program at New York University in New York City, where she specialized in painting. She received an MA in Theory and Mediation from The Royal Danish Art Academy.
Focusing on abstraction in its diverse forms and how visual art can be embedded in various contexts, Sass has developed several artistic initiatives complicating the exhibition typology, either through solo projects or
by collaborating with: Milena Høgsberg, Tomas Lagermand Lundme, Courtney J Martin, Bodil Nielsen and Anna Fro Vodder. In addition, Julie Sass has curated exhibitions in several art organisations and has produced a number of books in relation to her curatorial projects.
Her artist-books have been exhibited both nationally and internationally in various venues. In relation to this, her extensive artistic research developed through her artworks or curatorial practice rooted in abstraction is leading into future publications, where she hopes to explore the future of printmaking, painting, and abstraction in relation to art history and emerging technologies. Her work can be found in various public and private collections, including The Metropolitan Museum of Art in New York and the New Carlsberg Foundation.
Julie Sass, lives and works in Copenhagen, Denmark.
***
Volume Rhythm Matter dialogues
Ed. 200. Collaboration with STEINPRENT, 2017
1.600 DKK / 215 EU
Lemon Mood
Ed. 40. Collaboration with STEINPRENT, 2018
2.300 DKK / 307 EU
Black Fog Rising
Ed. 100. Collaboration with STEINPRENT, 2019
2.100 DKK / 280 EU
These artist-books can be ordered online
from the Really Simple Syndication Press Shop
***
RSS Press aims to re-imagine the relationship between art, theory, and literature as a way of fostering critical discourse – looking to formulate an international voice from the perspective of SixtyEight Art Institute's physical presence in Copenhagen. We focus on artistic research in the form of projects or as part of an extended practice emerging from exhibition-making concerns. In addition to exploring similar energies, we are about developing new readerships and visual experiences in book form through our syndication model. Available both at our physical store at SixtyEight Art Institute in Copenhagen and through our website, our syndicated titles constitute an essential part of our aim to foster new readerships and inspire new critical thinking in our ever-evolving era.
Really Simple Syndication Press is co-founded and edited by the writer and art historian Christopher Sand-Iversen and artist Hugo Hopping.