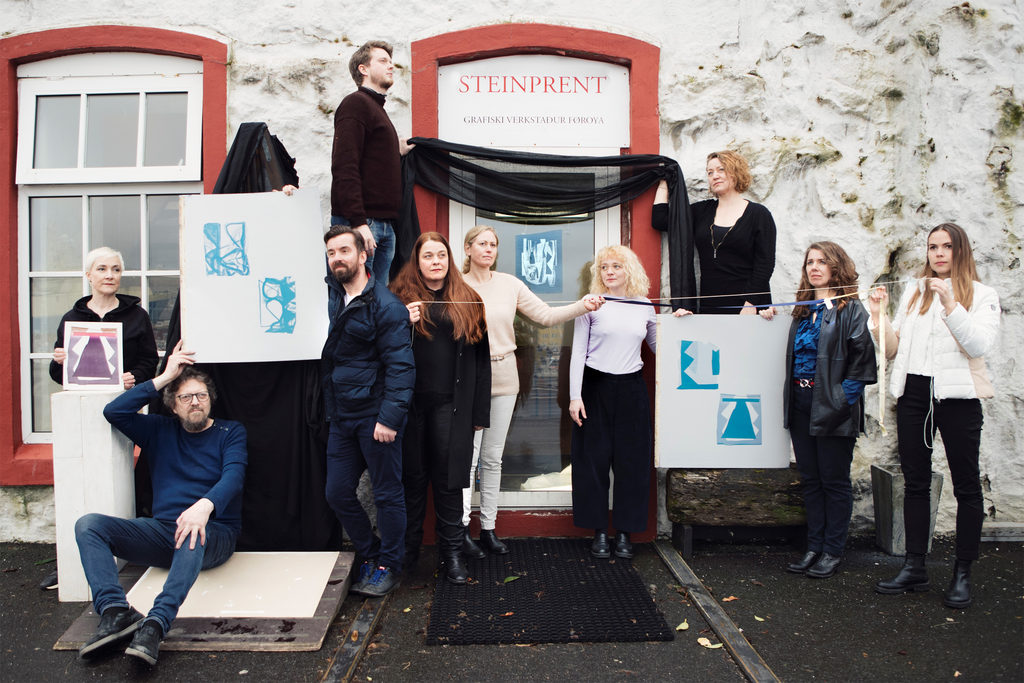 BLACK FOG RISING
STEINPRENT, Tórshavn, The Faroe Islands www.steinprent.com
March 30 – May 4, 2019
This is the first solo show by Danish artist Julie Sass in The Faroe Islands, celebrating 6 years of her collaboration with STEINPRENT on various projects, including the artist books: Volume Rhythm Matter dialogues (2017) and Lemon Mood (2018).
For this show, Sass has created a body of new works: very large-scale litho print, heliographs, an artist book, drawings, paintings, a large-scale sewn work and a window installation with neon lights.
The gallery space will be slightly altered for the show; new walls are constructed to make the angles in the space appear somewhat irregular. Attention to the space is called on via works of monumental scale mixed with intensely detailed and evocative drawings. Another focal point of the show is the experimental nature and possibilities that the large-scale lithographs present.
When looking closer at the multiple layers in the paintings, things add up as an invitation into a semi-transparent space with forms that are loosely contoured, or forms as silhouettes, suggesting their impermanence. Things are stacked, waiting to be rebuild, in a suggestive environment that has a dimmed tone of light; here elements are both emerging and disappearing.
The artist book serves as a meta-layer of painting with its overlaps and references to lived life, which cannot be woven into a single painting. This is one of Sass' traits as an artist. She continuously unfolds and adds to painting, pulling it out of place and re-assembling it again, and again.
The artist book features 16 heliographs and 8 short poetic and fictional texts. The images are divided in 'chapters' in the beginning of the book and the texts are placed at the end, like a final chapter. This format is in a sense a continuation of the tone from Lemon Mood, but here the text in itself is almost abstract as there are no names of places, so the person(s) is moving continuously into the unknown. A mix of the sexes is insinuated; he/she shifts into a subtle We, people, and general observations are almost commonplace with overlaps in textures and senses. The mind is both directed towards the landscape, a body moving, and intimate spaces that most people live with the experience of.
The images in the book are a free flow with a few divisions or shifts and have their own pace, giving attention to their own rhythm, texture, color; are in a way just by themselves images in their own right.
Excerpt from the artist book:
'..
There is a small creek nearby. No pain from the height, no dizziness. No return either. The immense mountains are always in the mind as a black fog, a memory. The latter is repeated, retrieved, wanted.
The bodies are passing silently through landscapes, keeping the sense of the stones they touch in their hands. Then, meeting women in colorful clothing, finally.
Meeting the lost gold, glittering gold, wisdom gold.
..'
(Image: Julie Sass, Black Fog Rising, detail of drawing, pigment, acrylics, colored pencil, ink on 300g acid free paper, 25 x 21cm, 10 x 8 in, 2019)